Athleticism is just one of the many qualities sedan shoppers in Brook Park, Independence, and Berea take into consideration when selecting a vehicle. For example, the Mazda3 vs. Honda Civic debate usually starts with performance comparisons and then transitions to include other worthwhile characteristics such as the safety features and interior measurements.
To help give you a well-rounded understanding of each of these models, Montrose Westside Wholesale Outlet will be pitting both sedans against each another in the coming sections using the aforementioned traits as measuring sticks!  Contact us today for more information.
Performance Specifications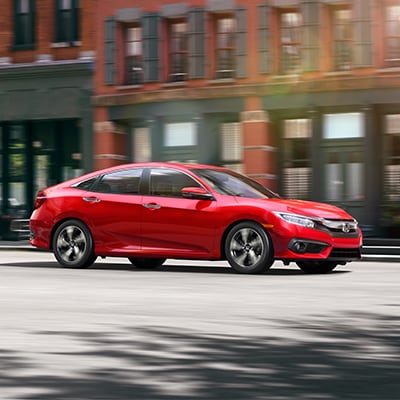 If you're hoping for a model that delivers a thrill each time you settle behind the wheel, you'll be pleased with both the Honda Civic and Mazda3.
Each car touts two different engine options. The first option in the Mazda3 is the 2.0L 4-cylinder that makes 155 horsepower and 150 lb-ft of torque. For even more burst during daily drives, you can instead opt for the 2.5L 4-cylinder that touts 184 horsepower and 185 lb-ft of torque.
In the other corner, we have the Honda Civic which utilizes an in-line 4-cylinder engine to generate 158 horsepower and 138 lb-ft of torque. You'll receive more gusto, however, if you decide to slap the turbocharger onto that in-line 4-cylinder, bringing your output up to 174 horsepower and 167 lb-ft of torque.
Interior Measurements: Passenger & Cargo Space
Whether you'll be using the sedan to commute each day or hit the open road for a lengthy road trip, you'll find the Honda Civic and Mazda3 are both comfortable, spacious options.
Starting with the Honda Civic this time, you'll find ample headroom to the tune of 39.3 inches up front and 37.1 inches in the rear. Legroom is generous also, measuring 42.3 inches in the front row and 37.4 inches in the second row.
The Mazda3 also touts a splendid cabin that affords front-row passengers 37.6 inches of headroom and second-row passengers 37.5 inches of headroom. As for legroom, 42.2 inches can be enjoyed up front and 35.8 inches in the second row.
Both vehicles tout similar cargo room as well, with 12.4 cubic feet in the Mazda3 and 15.1 cubic feet in the Honda Civic.
Safety & Driver-Assistance Technology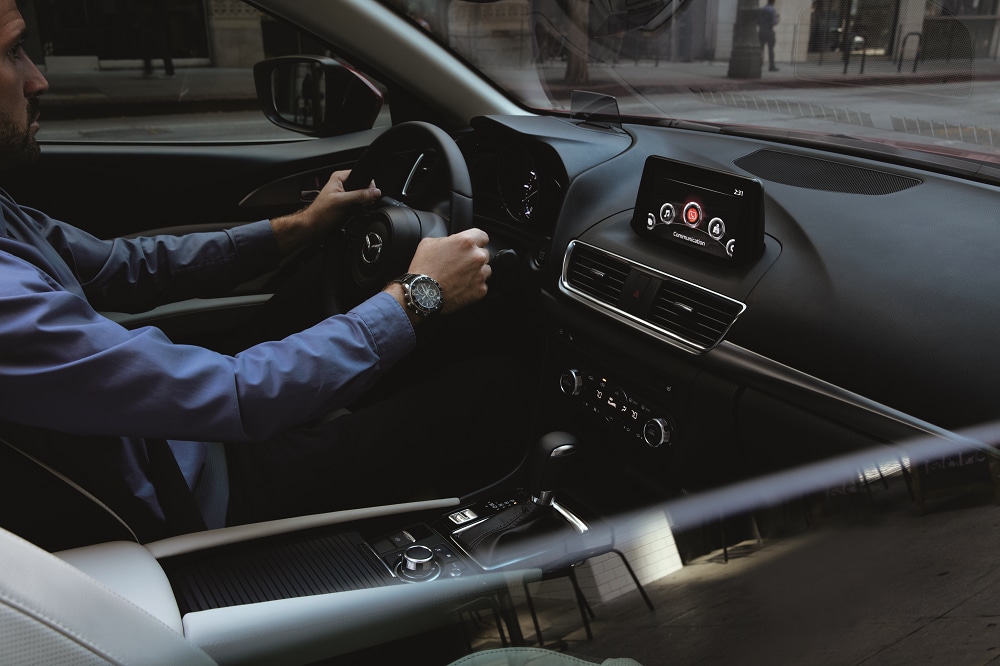 When it comes to the Mazda3 vs. Honda Civic, safety is a chief priority, which becomes obvious when considering the extensive protective features found in both cars.
The Honda Civic has the highly-praised Honda Sensing® feature that includes components such as:
Forward Collision Warning
Lane Departure Warning
Collision Mitigation Braking System™
Road Departure Mitigation System
The Mazda3 is no slouch either, combining a range of safety traits such as dynamic stability control with traction control system and Advanced Blind Spot Monitoring with Rear Cross Traffic Alert.
Who Comes Out on Top? Mazda3 vs Honda Civic
After pitting key traits in the Mazda3 vs. Honda Civic against each another, it's too close to make a definitive call on the superior model. Really, the best way to answer this question is by getting behind the wheel and judging for yourself.
To do this, get in touch with Montrose Westside Wholesale Outlet and we'll happily arrange your Mazda3 or Honda Civic test drive around Brook Park, Independence, and Berea.